About Us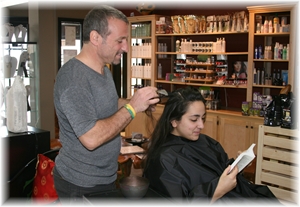 Transitions: is defined as a change or passage from one place, action, mood, topic to another. Transition best describes the process Transitions Studio owner Carlo Turavani has been engaged in.
Carlo has been a hair stylist since obtaining his license in 1980 and starting his own salon in 1984, Salon 244. Carlo's life changed when a close friend passed away in 1992 from cancer. He then began his transition from a hair stylist to understanding that beauty begins from the inside and that self confidence can be gained by the expression of that beauty on the outside.
The journey Carlo has been on since 1994 has lead him to cross paths of some wonderful people, like a child from his home town who lost her hair from cancer. To the courageous women he has met at the St. Catharines General Hospital to the clients that he has served for over 20 years.
In 1993 Carlo received became certified as a cosmetic therapist. As a cosmetic therapist he works with women, men and children who have lost their hair from cancer, burns, premature baldness and alopecia. To accommodate these clients Carlo was encountering on a more frequent basis, he created a separate and unique business: Transitions.
In 1997 Carlo met with the organization Wigs for Kids and formed the first Canadian chapter of Wigs For Kids. As a registered charitable foundation Wigs for Kids engages in private fundraising to offset any costs that are not covered by personal health insurance.
Kids who need a hair prosthetic are referred to Carlo from hospitals all across Canada. He meets with the kids and creates a prosthetic that reflects who they are. Each of these hair pieces are created by using donated hair. Not surprising Carlo receives many donations from kids which in turn help other kids.
After a dear friend of Carlo's passed away, Carlo's wife Tina, who is a certified esthetician, got involved in the Look Good Feel Better cancer program. This program provides to women who are undergoing cancer treatments an opportunity to receive the services of Transitions Studio. As volunteers for the past 13 years, Tina and Carlo have met some extraordinary women.
The hair salon was keeping Carlo very busy and this was starting to take a toll on his health. Being on his feet all day, with arms constantly up and extended and the constant movement resulted in chronic pain. In 1995 it was suggested that he try yoga to help ease the pain. What he learned through yoga gave Carlo the energy he needed to thrive in the business.
As fate would have it, just as Carlo began appreciating the new skills he was acquiring through yoga and sports training, space became available upstairs in the building that houses the hair salon. Carlo converted the space into a yoga studio and created Body Awareness in 2000.
Body Awareness is a program that combines yoga, sports training and breathing. Students who come to the classes are exposed to techniques that help to improve their stamina, flexibility and CLEANSING of the mind.
With the new emphasis of wellness, Carlo started to look deeply at the way the hair salon was being operated. He started to examine the chemical composition of the products that were being used everyday in the salon and the effects on his health and that of his clients.
Carlo began to reflect on all of these events and saw that he was moving to another place. He was starting to transition his career as a hair stylist to a career in beauty wellness. He realized that he now had the opportunity to combine the Body Awareness studio, the Transitions hair replacement business and Salon 244, the hair salon. This combination would create a whole person approach to the business. It seemed only logical to call the sum of these services: Transitions Studio.
We hope that you will visit our salon and experience a transition of your own.